DeBary Dentistry
Honest Dentistry From People Who Care
Greetings From Your Team at DeBary Dentistry!
Comfort, convenience, and compassion are the hallmarks of DeBary Dentistry.
Our skilled dentists can treat almost every issue for patients of all ages, no matter how big or small.
At DeBary Dentistry, our goal is to change how you think about dentistry. Founded in 2017, we are proud to serve the DeBary community and cherish the relationships we create with each of our patients. Dr. Calhoun, Dr. Wells, and Dr. Pirino pride themselves on being honest, kind-hearted dentists who always put the needs of their patients first. We take the time to listen to your unique concerns and show you the judgment-free respect and compassion you deserve. You're never "just another patient" to us. We put our hearts into our work every day and consider it an honor and privilege to care for you.
If you've been fearful in the past or anxious about undergoing dental treatments, you can count on a comfortable, relaxing environment with down-to-earth dentists who treat you like an individual. Once you step into our office, our welcoming and friendly atmosphere will put you at ease. Whether it's time for your six-month cleaning or you're in need of an emergency procedure, DeBary Dentistry is here for all your general, implant, and cosmetic dentistry needs.
Utilizing gentle and pain-free techniques, we strive to make every appointment as easygoing as possible. Our goal is to put a smile on your face and provide you with healthy teeth for years to come. We value honesty, transparency, compassion, and clinical excellence, making DeBary Dentistry one of the most highly rated dental offices in the area. Using evidence-based medicine, state-of-the-art equipment, and advanced procedures, your health is in excellent hands. Come see the difference for yourself, and start looking forward to your next dental appointment.
Dr. Steven Calhoun, DMD
"Dentistry has enriched my life and given me a deep sense of fulfillment. Helping people to live healthier, happier, and more confident lives with less pain and more smiles makes me excited to wake up and go to work each day. I'm grateful for each and every patient who entrusts me with their care."
Dr. Steven Calhoun was born and raised in Austin, Texas, and attended high school in Florida. He completed his undergraduate studies at the University of Florida, graduating cum laude with a Bachelor of Science degree in biology. Dr. Calhoun then graduated from the University of Florida College of Dentistry, where he cultivated his clinical skills and refined his eye for dental aesthetics. He was involved in the Christian Dental and Medical Association and the Psi Omega National Dental Fraternity. Dr. Calhoun is also a member of the American Dental Association and the Florida Dental Association. He routinely participates in continuing education to stay on top of the evolving field of dentistry, allowing him to provide you with the most up-to-date treatments and guidance available.
Dr. Calhoun understands there is a unique individual attached to every tooth and strives to make sure every patient is comfortable, informed, and satisfied with their entire treatment process. His fine attention to detail allows him to deliver beautiful aesthetic results, while his medical expertise and skillset ensure excellent health and longevity for his patients' smiles. Dr. Calhoun is honored by each and every patient who entrusts him with their care.
In his free time, Dr. Calhoun enjoys learning about new cultures through travel, cheering on the Gators and Longhorns in college football, cooking with his wife, Jamie, and working out to maintain a healthy lifestyle.
Dr. Mark Wells, DMD
"I consider myself very fortunate to have found dentistry as a profession. Being in a position to help others achieve and maintain optimal oral health while building life-long relationships is something that I'm grateful for every day and will never take for granted."
Dr. Mark Wells is originally from south Florida, where he lived until moving to Orlando to attend the University of Central Florida. After receiving a degree in Microbiology and Molecular Biology, he pursued a master's degree and subsequently a doctoral degree at Nova Southeastern University College of Dental Medicine.
Dr. Wells strives to provide his patients with compassionate care, evidence-backed knowledge, and a support system that encourages optimal oral health. He hopes to cultivate an office experience that is comfortable, interactive, and educational for the entire community. He takes great pride in creating healthy, beautiful smiles for patients of all ages and is passionate about empowering his patients to achieve the smiles they deserve.
When he isn't practicing dentistry, Dr. Wells enjoys spending time outdoors with his wife, two young daughters, and dog. His hobbies include watching college football, hiking, and fishing.
Dr. Nathan Pirino, DDS
"I want to do something every day that makes me a better dentist the next day. I plan to never stop learning. My goal is for my patients to feel as if I am on their side and rooting for them as individuals. We are on a team with the same goals: excellent oral health and improved confidence."
Dr. Nathan Pirino was born and raised in Orlando and attended Radford University in Virginia, where he earned a Bachelor of Science in biology. He then went to dental school at Dalhousie University in Halifax, Canada. Having missed the warm sunshine state, he was thrilled to move back to Florida upon graduation and begin working at DeBary Dentistry. Dr. Pirino specializes in general dentistry and is a member of the American Dental Association.
Dr. Pirino is committed to lifelong learning and is driven by his dedication to being the best dentist he can be. He is always on the same team as his patients, working towards the shared goal of excellent oral health and improved confidence.
In his free time, Dr. Pirino enjoys photography, baking, and spending time with his dog, Frank.
We Want Your Whole Family to Have a Healthy Smile!
Contact Us Today for Appointment
Flexible Payment Options For High-Quality Dental Care in DeBary
For your convenience, DeBary Dentistry accepts:
We do NOT accept HMO or Medicaid plans.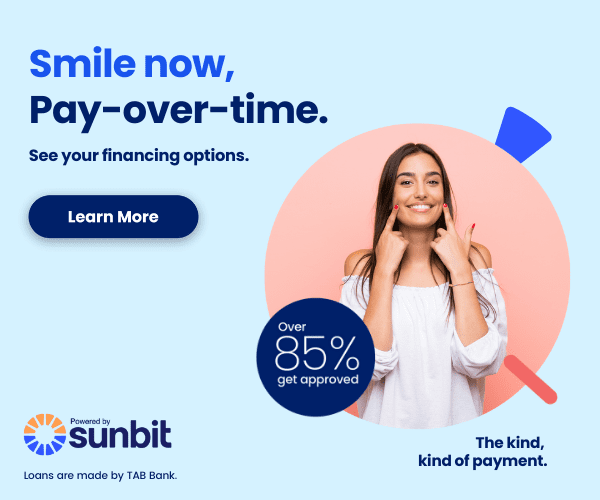 No Insurance? We Have You Covered.
See how simple and affordable better oral health can be!
Adult plans start as low as
DeBary Dentistry
Honest Dentistry From People Who Care
DeBary Dentistry can meet a wide range of dental needs from family dentistry, cosmetic dentistry, implants, Invisalign®, orthodontic services, oral surgery, periodontal services and endodontic services. Patient comfort and care are our top priority, and we go to great lengths to provide a pleasant environment for you.
We accept a wide range of PPO dental insurance plans, cash, check and all major credit cards. We also offer a low-cost in-house discount plan to save you money on your dental care!
Our office is located in the DeBary Professional Center Plaza (Directly across the street from the Walmart Neighborhood Market on 17-92).
DeBary Dentistry serves DeBary, DeBary Villas, Woodbound Lakes, Surrey Run, Swallows East, Glen Abby, Orange City Estates, Orlandia Heights, Springview, Volusia Park, Parkview Heights and Orlando And More!
DeBary Dentistry
190 N Charles Richard Beall Blvd, Suite 101
DeBary, FL 32713
Same-Day Appointments
Have a dental concern or emergency? We'll be happy to see you the same day.
Se Habla Español
Hours of Operation
Monday: 8am–5pm
Tuesday: 8am–5pm
Wednesday: 8am–5pm
Thursday: 8am–5pm
Friday: Closed
Saturday: Closed
Sunday: Closed